BASIC KITCHEN SALAD PROJECT- 7 WEEKS IN SALADS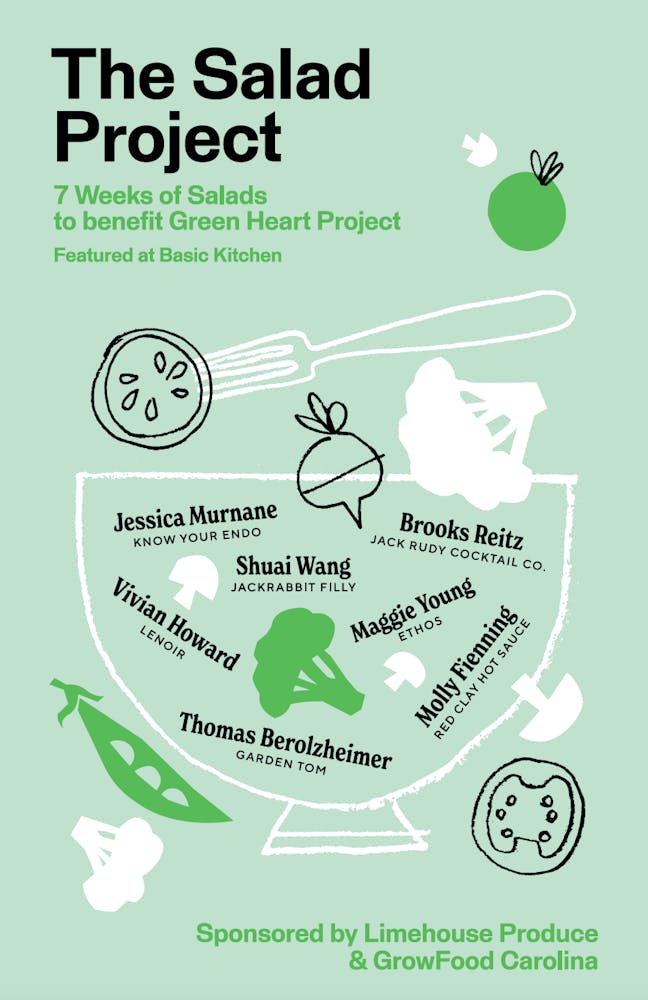 Launching August 2nd through September 19th
We're excited to announce our Second Annual Salad Project; a celebration of the season & an exciting collaboration with local inspirations! Each week we will highlight a local tastemaker's signature salad, on our menu at Basic Kitchen, benefitting Green Heart and with lots of festivities in between!
Green Heart is a local non-profit working to educate Charleston youth through experiential learning; enhancing their education with school gardens, building healthy eating habits and building community. Net proceeds from the sales of each salad will go towards Green Heart's Back to School Initiative.
Kicking off on August 2nd, the project gives Charleston a chance to enjoy 7 different craveable salads while giving back to the community. We are excited to partner with:
 Week 1: August 2 - Shuai Wang // JackRabbit Filly // Cantaloupe, shaved shishitos, pistachio, whipped feta, shiso, olive oil and lemon.
 Week 2: August 9 - Maggie Jean // Ethos Athletic Club // Power Up Salad! Spinach , Shredded Brussels, Basil, Parmesan, Marcona Almonds, heirloom tomatoes, feta, Red Wine Vin
 Week 3: August 16 - Thomas Berolzheimer // Garden Tom & Gal Meets Glam Co-founder // Summer Harvest Salad //Roasted eggplants, shishitos, cherry tomatoes, pine nuts and a basil Serrano vinaigrette
 Week 4: August 23 - Molly Fienning // Red Clay : A Peach of A Salad - Burrata, local grilled/sautéed peaches, local cherry tomatoes, toasted almonds, arugula, basil, pickled Visalia onions, Red Clay hot honey vinaigrette
 Week 5: August 30 - Vivian Howard // Lenoir: watermelon, avocado, jalapeno, lime, chermoula salad
 Week 6: September 6 - Jessica Murnane // Know your Endo // Panzanella, heirloom tomatoes, garlicky sourdough, white beans and maybe arugula
 Week 7: September 13 - Brooks Reitz // Jack Rudy Cocktail Co // Carrots , pistachio pesto (basil, pistachio, parm, olive oil, garlic), avocado, sliced red onion, and parsley
We're finishing it off with a Grand Finale Saladbration at Basic Kitchen to celebrate Green Heart complete with a DJ, snacks and drinks! Be sure to buy tix to attend this unforgettable evening.