The Dude Diet Dinner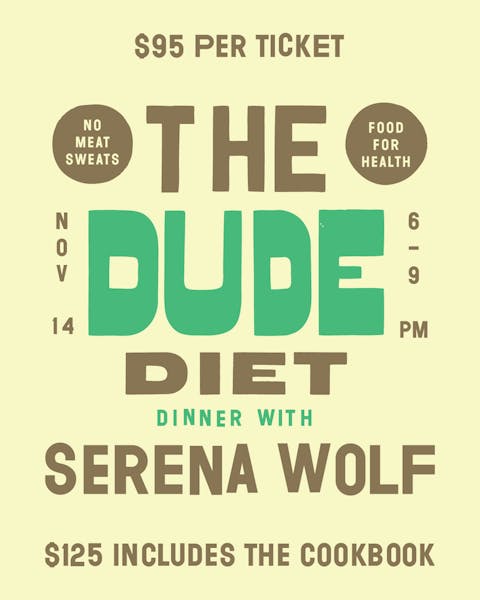 Thursday, November 14th
6-9PM
We are beyond excited to team up with author and chef extraordinaire SERENA WOLF as she launches her cookbook THE DUDE DIET DINNERTIME! You might be wondering, what is the Dude Diet?
The Dude Diet is Clean(ish) Food For People Who Like to Eat Dirty. Offering an accessible alternative for those looking to live well while without sacrificing the foods they love! i.e. nachos… grilled cheese.. you know the drill.
Needless to say, the Dude Abides.. Bringing you the Dude Diet Dinner, a celebration of epic proportions, highlighting recipes from the new release, in a 3 course menu with wine pairings. Sit down with the funny and fabulous Chef Wolf as she shares stories from the book and signs her new work. Tickets start at $95 fully inclusive of food, wine, tax and tip or $125 includes all of the above, plus a signed cookbook!
The 3 course menu be served family style, featuring:
Starters:
Spinach Artichoke Grilled Cheese
Turkey-Zucchini Meatballs
Buttermilk Chicken with Secret Sauce
Entrees:
Beef Tenderloin with Rosemary Red Wine Sauce
Sour Cream and Onion Cauliflower
Crowd Pleasing Kale Salad
Sweets:
Pumpkin Banana Cake with Coconut Cream and Toasted Pumpkin Seeds.